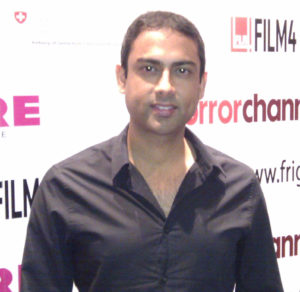 Imran Ahmad is a British Indian Film Composer and Music Artist from London, U.K.  His music has been broadcast on UK and international television and commercially released worldwide.
His latest feature film THE LEDGE was released in February 2022 by Paramount Home Entertainment in the USA.
Imran composed the music to the critically acclaimed zombie feature film THE DEAD set in West Africa and shot on 35mm film. This was followed by music for the award winning sequel THE DEAD 2: INDIA which was the opening night film at the Frightfest Film Festival. He later scored NEVER LET GO that was released by Sony Pictures Home Entertainment and won Best Independent Feature at the National Film Awards. 
Imran has also composed music for several documentaries, notably multi-award winning MAYOMI which is an intimate portrait of a young woman's struggle in post-tsunami Sri Lanka. He also composed additional music for the documentary INDIA IN A DAY, directed by Richie Mehta and produced by Ridley Scott and Anurag Kashyap.
Imran has composed music for several audio dramas that have been broadcast on BBC Radio 4. Notable productions include the New York Festivals Radio Award winners THE MARTIAN CHRONICLES starring Derek Jacobi and Hayley Atwell, DAN DARE starring Heida Reed and Ed Stoppard and I, ROBOT starring Hermione Norris.