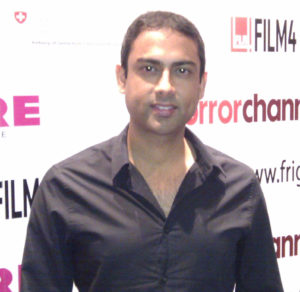 Imran Ahmad is a British Indian Film Composer and Music Artist from London, U.K.
His latest feature film THE LEDGE (2022) starring Ben Lamb was released in February 2022 by Paramount Home Entertainment in the USA. In June 2022, it reached no. 7 in the Top 10 Films on Netflix UK.
Previous music scores include the Ford Brothers' critically acclaimed zombie feature film THE DEAD (2010) starring Rob Freeman set in West Africa, and its award winning sequel THE DEAD 2: INDIA (2013) starring Joseph Millson which was the opening night film at the FrightFest Film Festival in London. Imran also scored the action thriller NEVER LET GO (2015) released by Sony Pictures Home Entertainment and won Best Independent Feature at the National Film Awards in London.
Other credits include music for several documentaries, notably additional music for Scott Free Productions' INDIA IN A DAY (2016) which was directed by Richie Mehta and executively produced by Ridley Scott.
Imran has enjoyed a long association with indie producer B7 Media and created original scores for several full-cast audio dramas broadcast on BBC Radio 4. Notable productions include the New York Festivals Radio Award winners', THE MARTIAN CHRONICLES (2014) starring Derek Jacobi and Hayley Atwell, DAN DARE (2018) starring Heida Reed and Ed Stoppard and I, ROBOT (2017) starring Hermione Norris. He also scored the ten-part Audible docudrama series THE SPACE RACE (2019) narrated by Kate Mulgrew.