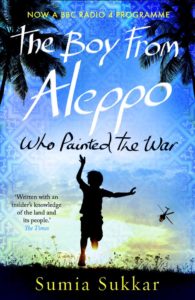 The Boy from Aleppo who Painted the War presents the Syrian conflict through the eyes of Adam, a teenage boy with Asperger syndrome, who can only speak the truth.
As the war creeps ever closer to home, it devastates and disrupts the life of his family. Struggling to make sense of the conflict, as he and his family try to survive in an impossibly brutal world, Adam paints as a way to record and cope with the horrors he witnesses.
His older brothers face the dilemma of whether to take sides – and the consequences of their choices have repercussions for the entire family. But can they make it to safety as the conflict in Aleppo rages all around them?
The immediacy and impact of this drama bear witness to the horrors of war, its effect upon the innocent, and the triumph of the human spirit over almost unbearable adversity.
Production Credits

THE BOY FROM ALEPPO WHO PAINTED THE WAR was a B7 Media production. Based on the novel by Sumia Sukkar.

Starring Bijan Daneshmand
Original Music Imran Ahmad
Sound Design Wilfredo Acosta
Broadcast Assistant Tom Du Croz
Producer Patrick Chapman
Executive Producer Andrew Mark Sewell
Director Fiona McAlpine